What!! Uorfi Javed is allergic to clothes
---
Uorfi Javed Allergic To Clothes: Social media sensation Uorfi Javed is allergic to clothes. Whenever the actress wears full clothes, she gets allergic, the proof of which she has also shown to the people.
Who does not know the social media sensation Uorfi Javed today's date? Uorfi may have come to act in the industry, but she has earned a name for herself not because of her acting career but because of her unique dressing sense. She is often spotted in revealing dresses. For this, actresses also have to be trolled, but now it seems that now wearing a revealing dress of the actress has also become a compulsion.
Uorfi Javed is allergic to clothes
Yes, Uorfi Javed herself has disclosed this. Uorfi Javed has shown the rashes on her body by sharing a video on her Insta story. She has a lot of rashes on her hands and feet, due to which Urfi is very upset. Uorfi Javed said that her body is allergic to clothes. If she wears full clothes or woolen clothes then she gets rashes. Uorfi said that's why I don't wear clothes because I have a serious condition. My body reacts when I wear clothes.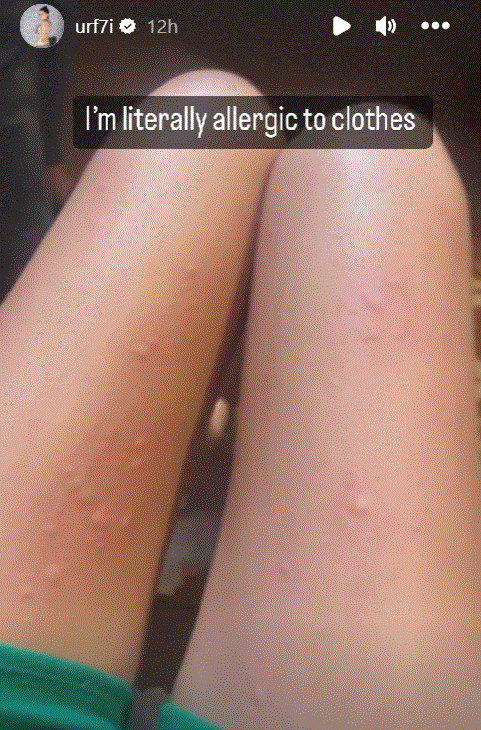 Uorfi Javed got famous for her clothes
Uorfi Javed has worked in many TV serials, including serials like 'Meri Durga', 'Beyhadh', and 'Yeh Rishta Kya Kehlata Hai'. Uorfi Javed got headlines for her dressing sense in 'Bigg Boss OTT'. She was able to stay in the show for a short time, but for all the days she stayed, she caught the attention of people with her unique fashion sense. Uorfi Javed also faced a lot of trolling because of her clothes, but Uorfi never stopped but surprised people with her unusual dress every day. Today many celebrities also praise her.